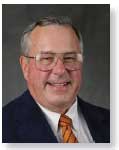 The concept for Byrider was born in Marion, Indiana, in 1979. This concept was the vision of Jim DeVoe Sr., who was working with his father, Paul DeVoe, running a Chevy-Cadillac store. Jim DeVoe's vision was developed out of necessity. As interest rates were high and new car sales were sagging in the late 1970s. Many people in tiny Marion, IN, were blue-collar workers who could not qualify for financing on a new car, yet they needed transportation to get to and from their jobs.
Jim developed a business model that would allow his dealership to compete in the buy-here-pay-here category by offering consumers a car and financing in one location and surpass the competition. His success led him to develop an educational package which he used to show other car dealers across the country how they too could succeed in this category.
Through the Auto Credit Seminars, hundreds of dealers learned many of the inside tactics. Eventually, Jim's interest in franchising his concept led to the inception of the J.D. Byrider brand, and he opened his first unit in 1989.
TIMELINE
1979  Jim DeVoe Sr. forms Auto Credit of Marion, Indiana.
1989  First J.D. Byrider opens.
1993  J.D. Byrider moves corporate headquarters to Indianapolis, IN.
1997  J.D. Byrider adopts "You get the credit, you get the car" campaign. Signs sponsorship deal with Tony Stewart.
1999  Ad campaign changes to "Easy as 1, 2, 3, DRIVE!". Opens 100th dealership.
2000  Moved to new corporate headquarters in Carmel, IN.
2002  J.D. Byrider adopts "Good to Go" campaign.
2006  J.D. Byrider adopts "J.D. to the Rescue…Good Cars for People Who Need Credit" campaign.
2011  Altamont Capital Partners acquires J.D. Byrider to provide strategic direction, resources, and capital for long-term company growth.
2012  J.D. Byrider closes first asset-backed securitization, receiving AA rating.
2012 J.D. Byrider reaches $1 billion in outstanding retail installment contracts.
2013  J.D. Byrider sells its 1 millionth vehicle.
2015 J.D. Byrider celebrates more than 25 years of franchising with record growth.
2017 J.D. Byrider reaches 152 locations and 1.3 billion dollars in outstanding receivables